The quotes received by these tenders show some interesting findings. The price bid result of the CESL procurement for 12m AC buses is INR 47.49 per-km and 9m AC buses is INR 41.45 per-km assuming labour costs of Delhi. These would later be customised for other cities based on their minimum-daily wage labour rates assuming 30% of quoted cost to be on labour.  Tata Motors was the winning bidder across all five lots. BEST-Mumbai received quotes lower than CESL at INR 46.81 per-km for the 1400 12m AC buses. The order was later scaled up to 2,100 buses to benefit from the competitive rates. Nagpur (NMC) received a lowest quote of INR 54.53 per-km for the 115 9m AC buses from PMI-Foton. Finally, the mostly recently concluded DIMTS received quotes in two clusters E1 and E2 with 190 and 140 12m AC buses respectively. The lowest price quoted was INR 55.95 per-km by Tata motors for cluster E1 and INR 53.57 per-km by PMI-Foton for cluster E2. The summary is shown below: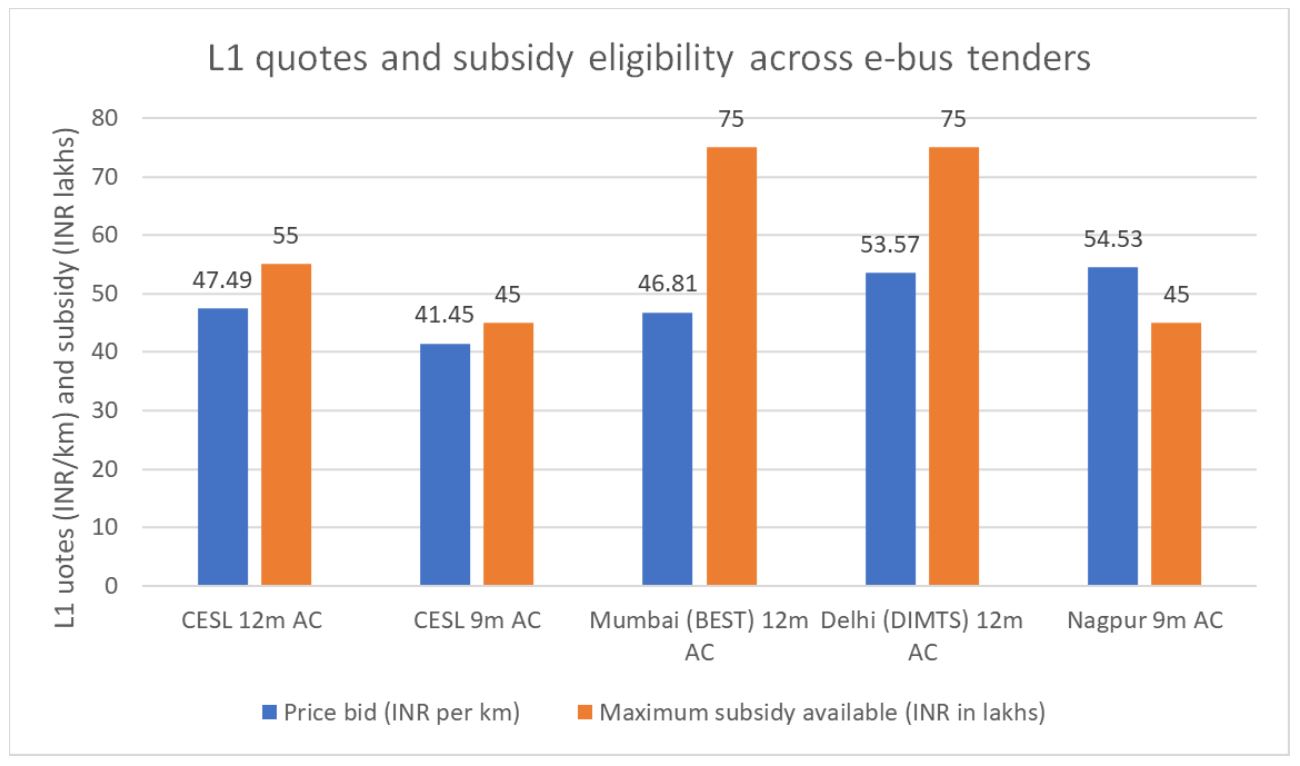 Mumbai's quote was approximately 1.5% lower than the quote received by CESL for a 12m bus with similar technical and operational specifications. While Mumbai tendered out fewer buses compared to CESL, it also has a subsidy eligibility of INR 75 lakh per bus subsidy available in comparison to CESL INR 55 lakh for an equivalent bus. The actual subsidy amount will be the lower of eligible subsidy and 40% of the cost of the bus, to be estimated based on a formula linked to the per-km cost quoted. Hence, in both the cases, the actual subsidy amount would be lesser than the maximum eligible subsidy amount.  DIMTS offered a fixed subsidy of INR 75 lakh per bus but the rates received were approximately 13% higher than CESL quotes for a similar bus. This could be attributed to the low volumes on offer per tender. In case of Nagpur, despite tendering for 9m buses, the quotes received were higher than the 12m quotes in other cities. Nagpur also had the lowest number of buses on offer among the four tenders analysed. 
The tenders analysed are also part of the larger scope of the Memorandum of Undertaking (MoU) signed between CESL and UITP India on 10 February 2022. The goal of the MoU is to work together on advancing electric buses by identifying electric bus procurement principles, improve city-level preparedness for transitioning to electric buses and share peer learnings between cities to adopt robust and adaptative business models. The MoU with CESL was under the larger umbrella of the projects that UITP has undertaken in India on  electric buses i.e., 'Soot-Free Low-Carbon Public Fleet – Case study of Bangalore Metropolitan Transport Corporation (BMTC)' supported by International Council on Clean Transportation (ICCT) since 2018 and 'Enabling Mechanisms to Advance Electric Buses in India' funded by a US based Philanthropic organisation since 2021. The support to MoU was also based on the extensive study done on FAME II tenders in a project funded by Shakti Sustainable Energy Foundation.