UITP Global Public Transport Summit 2019 witnessed entries from diverse organizations for its awards. Two such entries from India were recognized in Special Recognition Awards.
The first project is by Delhi Metro Rail Corporation (DMRC) . Multimodal integration at Chhattarpur metro station of the Delhi metro network.It encompassed seamless multimodal integration of all other public transport, feeder buses, shuttle services, pick up-drop off for private cars, auto rickshaws, cycle rickshaws, cycle stand, cycle rental service location and pedestrian pathway, cycle track.
It included
creating demarcated drop off, pick up and free U-turns to enable seamless para transit movement.
prioritizing the space around station firstly for non-motorized modes and public transport drop offs, then for para transit and lastly for private vehicles.
barrier free, safe pedestrian crossing and NMT facilities.
public facilities like toilets, dustbins, hawking zone, lighting, signage, information/way finding maps and electric vehicle charging station
Once implemented, it will benefit all stakeholders viz. DMRC, passengers, last mile connectivity providers, vendors and the landscaping work will also add up to the beauty of the station. It will provide ease and safety to commuters. The expected footfall of the station will increase from 60,000.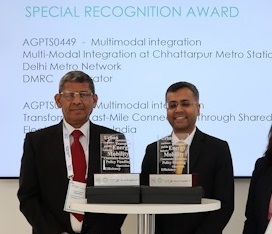 The 2ndproject is by SmartE onTransforming Last-Mile Connectivity through Shared Electric Mobility in India SmartE"One of the most innovative elements of the project is its deep integration with India's largest Metro Network, Delhi Metro Rail (DMRC).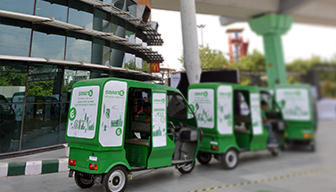 Below are some highlights:
SmartE service is available seamlessly to over 1.5 million metro commuters every month across three cities on the DMRC network (Delhi, Gurgaon and Faridabad). The services are available as soon as the commuters exit the station and provides a fixed-route/fixed-fee shared commute option. Prominent branding at Metro Stations ensure that commuters no longer rely on unreliable and expensive commute options . The project had wide-ranging impact on a number of areas as below:
Cost of Commute: SmartE has been able to reduce the total cost of last-mile commute of an average Delhi Metro user by as much as 75%. Earlier, an average user would pay approx INR 40 for a single last-mile journey. This is now INR 10.
Reduced Emission: Through its fleet of close to 1000 vehicle, SmartE has served over 35 million commuters till date and helped reduce approximately 5000 tonnes of Carbon, equivalent of planting 136000 trees.
Safety: By introducing real-time GPS monitoring of vehicles, 14×7 helpline number, on-ground quick response team and driver training, SmartE has created perhaps one of the safest privately-managed mobility solutions in the country.
Sustainable Livelihoods: Over last 3.5 years, SmartE has helped create sustainable livelihoods for over 1200 Driver Partners, who now earn upwards of INR 20,000 per month. This is approximately 30-50% higher than previous livelihood sources