Rail plays a vital role to keep cities and regions alive and moving, providing a safe, smart and sustainable means of transport. Regional, suburban, urban and local rail transport is an essential and innovative component of the overall rail sector, helping citizens to connect with each other and move in and around regions and cities.
2021 is the EU Year of Rail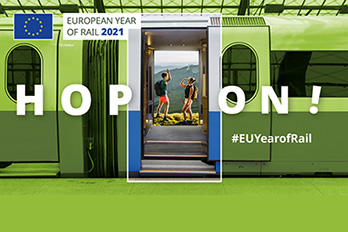 January 2021 marks the debut of the European Year of Rail, an EU initiative to highlight the benefits of rail as a sustainable, smart and safe means of transport. The EU Year of Rail aims to create momentum to help increase rail's share of passenger and freight transport, cutting transport greenhouse gas emissions and pollution. 
UITP is taking this opportunity to launch Keep it Rail!, a series of activities to promote the use of regional and local rail transport. Throughout 2021, UITP will organise events and launch new publications and projects to highlight the key contribution of rail transport in citizens' everyday lives.